Sale of Life Insurance
Boca Raton Insurance Lawyer Fights for You
Solicitation and Sale of Life Insurance and Annuities in Florida
The Law Firm of Joseph J. Rosen, P.A. is a private law firm located in Boca Raton, Florida. We represent consumers who have lost funds or premiums paid in connection with the purchase of life insurance or annuities in the State of Florida. We represent consumers only. We do NOT represent insurance brokers or insurance companies.
Have you suffered financial loss due to misrepresentation or fraud?
If you purchased life insurance or an annuity (in Florida) from an insurance agent or an insurance company, and you believe that the broker or seller furnished misinformation to you, or failed to disclose important information, or the information received was inaccurate or misleading, then you may have a right to get your funds returned. Our ultimate goal is to help you get back the monies you put into a life insurance policy or annuity in situations where fraud, negligence or misrepresentation may have occurred.
Life Insurance & Annuities: General Information on Life Insurance and Annuities
What is a "free look" period?
A policy of life insurance that is issued in Florida is required to provide an unconditional refund for a period of at least 14 days. This is also called the "free look period." For life insurance, an insurer is also generally required to provide to each prospective purchaser a buyer's guide and a policy summary before accepting the initial premium. The exception is when the policy provides for an unconditional refund of at least 14 days.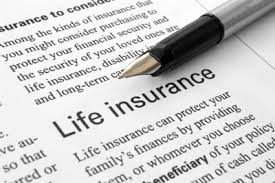 For fixed and variable annuity contracts, the insurer must provide an unconditional refund for a period of at least 21 days.
What Are the Types of Life Insurance?
The traditional forms of life insurance are Term Insurance and Whole Life. In recent years, other types of life insurance arrangements have arisen such as Universal Life and Variable Life insurance.
• Term Life – A "Term Policy" is a life insurance policy where coverage is purchased for a specified duration of time (e.g., 20 years) and the death benefit is paid if the insured dies during the coverage period. Term life insurance is usually paid under a fixed schedule of premiums and there is usually no accumulated cash value.
• Whole Life – Whole Life insurance is designed to provide insurance coverage for the insured's entire lifetime. The death benefit is paid regardless when the death occurs. Typically, a whole life policy provides a fixed amount of life insurance coverage with a fixed premium payment over the course of the insured's lifetime. There can also be an accumulation of "cash value" associated with the whole life policy.
• Universal Life – Universal Life Insurance is a life insurance policy which has the general characteristics of flexible premium payments and adjustable death benefits. In a typical Universal Life policy, premium payments can be paid in a flexible arrangement, or not paid at all. As long as there is sufficient cash value in the policy to cover the bear cost of insurance and any administrative charges, no further premium payments are needed. If, however, the cash value in the policy is depleted to the point where the cost of insurance is not sufficiently covered, the policy could lapse.
• Variable Life Insurance – This type of policy provides for a death benefit, like all life insurance, as well as an investment component. The investment part of Variable Life involves placing the insured's excess funds in a "sub account" or "separate account." The cash value is placed in this separate account, which rises or falls depending on the investment results of the investment fund which is tied to the VLI policy. VLI policies allow the policyholder some limited control over the investment of the cash value, but there is an element of risk when you place your funds into a VLI policy.
What Are the different Types of Annuities?
Often an investor in annuities will purchase either a fixed annuity or a variable annuity.
• Fixed Annuities – When a purchaser buys a "fixed" annuity this means that there is a minimum or guaranteed interest rate at which the funds in the fixed annuity are credited by the insurance company. Fixed annuities offer security in the sense that the buyer knows that the rate of return is certain. The buyer does not need to worry about how to invest the funds in the annuity since a minimal rate of return is guaranteed under the annuity contract. This is not so with a variable annuity.
• Variable Annuities – In a variable annuity, the rate of return on the funds placed in the annuity can vary, and depend on the performance of the investment account(s) in which the funds are placed. The annuity holder will assume the risk in the performance of the funds placed by him in the variable account or accounts, which are dependent on the market. Variable annuities are considered "securities" under federal law, and a person who sells a variable annuity must have the proper security licenses.
Our Firm generally works on a contingency fee basis
This means, in simple terms, that our attorney's fee is paid from the client only upon an actual monetary recovery. In limited situations, however, we cannot provide services on a contingency fee basis. There is no charge to the client for reviewing and assessing the claim.
Do you need a Boca Raton or West Palm Beach Insurance Lawyer? Contact us today!
If you have a legal question about your life insurance or annuity contract, or if you are seeking to recover lost premiums paid to the carrier, please feel welcome to contact us at 561-638- 8593.