FL Life Insurance Claims (Death Benefits)
Miami to Jacksonville Life Insurance Lawyer
Were you denied life insurance benefits?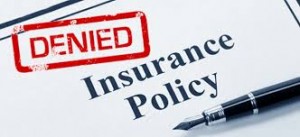 Loss of a loved one is tragic. When this loss is paired with the added strain of not getting your life insurance benefit paid, you could be faced with the prospect of being unable to pay the funeral bill or care for yourself and your dependents. If the insurance company denies benefits from a life insurance policy, as a beneficiary you could have a legitimate insurance claim. Our Law Firm specializes in recovering life insurance benefits (in Florida) when the proceeds are either denied or delayed for any reason.
Do you need an attorney to represent you?
If a life insurance company denies your benefits what legal options do you have? You can certainly try and appeal the decision to the company, but this may result in a fruitless effort. In certain limited situations you are required to make a formal appeal before taking further action. In the end, however, once a claim is formally denied you will likely need the assistance of a lawyer.
Often times, insurance companies will be more responsive to a claimant when he or she is represented by counsel. There also can be complicated legal or factual issues which will require the trained eye of an attorney. You should also be mindful of the time situation in regards to filing suit. In Florida you would normally have 5 years to file suit against the insurer before the claim becomes barred by the statute of limitations. For so many compelling reasons, it is helpful to seek the advice of counsel when your life insurance is denied.
What is our attorney's fee?
We work on contingency fee basis. That means we only recover our fees if there is an actual insurance recovery. No recovery means no fees are charged to the client. Our attorney's fee is usually less than what most contingency fee law firms will charge. Our Client Agreement will always be in writing and clearly written to understand.
Issues in Life Insurance Claims in Florida
Misrepresentation. Perhaps the most common issue that arises in life insurance disputes is the claim made by the insurance carrier that the insured made a misrepresentation or omission on the life insurance application. Often times, the insurance carrier, if it alleges that a misrepresentation has occurred, will deny payment of the proceeds, return the premiums, and "void" the policy.
What does contestability mean? In Florida, the insurance carrier is permitted to "contest" or challenge the validity of an insurance policy based on an alleged misrepresentation on the application. However, the carrier's right to contest the policy is only allowed if the insured dies within 2 years of the policy date. When the policy is contestable, the carrier will investigate the claim to determine if the applicant failed to disclose a medical condition on the insurance application. If the carrier determines that a misstatement was made on the application, the carrier will likely deny the claim.
Lapse. Denial of life insurance benefits can also arise where the policy has lapsed due to nonpayment of premium. This can really be gut-wrenching because the insured could have been paying premiums to the carrier for years, even decades, and if a premium payment is missed the policy could lapse. That simply means that the policy has expired. An issue which often arises in lapse cases is whether or not the insured should have received written notice from the carrier to make the missed premium payment.
Reinstatement of Life Insurance. If an insurance policy lapses due to nonpayment of premium, it is possible for the policy to be reinstated. To reinstate, the insurance carrier may often require the insured to make back payments of unpaid premiums and possibly undergo a medical exam in order to establish his continued insurability. Once there is a reinstatement, though, Florida law provides that the reinstated policy will again be subject to the 2-year contestability rule.
Accidental Death Claims. There are certain insurance policies that only pay benefits when there is an accidental death. An accidental death normally means death due to injury but not from natural causes. An issue which often arises in accidental death cases is whether the insured's death was due to sickness or accident. These cases can often be complicated especially where the insured died from an accident and was simultaneously suffering from a serious medical condition which may have contributed to that person's death.
Definition of Accident. If the term "accident" is not specifically defined in an accidental death policy, the courts will typically use an in-the- street definition of the term. The Supreme Court of Florida in Government Employees Insurance Co. v. Novak, 453 So.2d 1116, has referred to an "accident" as a fortuitous circumstance, event, or happening, or an unusual, fortuitous, unexpected, unforeseen, or unlooked for event, happening or occurrence. In other words, an accident in an accident insurance policy will be viewed generally as something unforeseen or unexpected, and taking place not according to the usual course of things or events.
Accelerated Death Benefit. A life insurance policy may contain an accelerated death benefit (ADB) clause. This type of clause allows an insured, under specific circumstances, to recover a portion of the life insurance benefit while the insured is alive. Usually the insured has to prove that he or she is suffering from a terminal illness (as defined under the policy) in order to qualify for the ADB. An issue which often arises in ADB cases is whether the insured can prove the existence of the terminal illness.
Dismemberment. Some life policies provide special coverage to the insured where there is a loss of limb or loss of use of a major bodily function such as sight or hearing. For instance, if the insured loses his leg or part of his leg to an accident or sickness, the policy will pay out a specified sum of money, like $25,000. Another example might be substantial loss of sight to one of the eyes. An issue which may arise in these cases is whether the loss of limb or bodily function was sufficient to warrant payment of the specified benefit.
Suicide Exclusion. Many life insurance policies will exclude coverage when the death occurs by suicide. Typically, suicide clauses in life policies are quite uniform in language and provide that in the event of death from suicide, while sane or insane, the company's only liability will be the return of premiums paid. Most suicide clauses will limit their application to the first two years of the policy. An issue which may arise in suicide cases is whether the death occurred by suicide or from some other cause of death.
Individual vs. Group Policies. Life insurance policies can be individually-based or group-based. An individual life insurance policy is procured by the insured on his or her own usually through an agent. The insured will typically be the policy holder. A group policy involves the purchase of an insurance policy for a class of designated persons, like the employees of a company. The company or a designated entity is usually the policyholder while the employees or participants are certificate holders.
Individual policies are generally governed by state law. Employer-based life policies are typically governed by the Employee Retirement Income Security Act of 1974, which is a federal law that is commonly referred to as "ERISA". Generally, ERISA governs employer-based claims involving health, life and disability policies.
What regions in the State of Florida do you handle life insurance claims?
Our main office is based in Palm Beach County. But our Firm handles life insurance denied claims for individuals throughout the major regions of the State. In South Florida, our Firm represents life insurance claimants in Boca Raton, West Palm Beach and Miami, including its surrounding areas, such as Homestead, Cutler Bay, and Doral. In the central part of Florida we represent claimants who have been denied life insurance in Orlando, Tampa, and Cape Coral. In North Florida, we service claimants of denied life insurance from Jacksonville in the northeast to Tallahassee in the midsection of the Pan-handle. If you are in need of a Miami or Jacksonville life insurance lawyer, our Firm can represent you throughout the entirety of the claim in all of the courts of Florida.
Our Firm is very familiar with the law of life insurance and we are prepared to answer your questions and service your denied claim, no matter where you are located in the Sunshine State.
More Topics on Life Insurance Claims – Specialized Articles
Misrepresentation on the Application: The Knowledge and Belief Standard
Accidental Death Claims In Florida
Elements of a Life Insurance Contract in Florida
Wrongful Denial of Life Insurance Claim Based on Diabetes Disclosure on Application
If your life insurance claim has been denied or delayed, please contact us for a FREE case evaluation. Our phone number is 561-638- 8593.